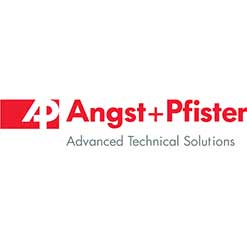 Angst Pfister is a company born more than 100 years ago, to develop, innovate and produce new technology in the industrial area. The materials are the strength of the company in which it constantly invests and innovate. Their products have to pass a lot of tests like the durability, elasticity or press one showing a great quality. The design of the product is supported by the latest technology and programs, allowing the company to design innovative and the good product for the demand of the clients. The production is in more than 15 country and use latest technology and the best machines allowing to produce high quality products. The supply of their product is entrusted to quality partners, reducing the cost and personalizing the shipments.
Components made by ANGST PFISTER
ICDC Srl sells brand new and original ANGST PFISTER components and spares, for a wide variety of applications, including Mechanics, Pneumatic and Oleodynamics and several others. Please check if our inventory matches your needs and for additional information or technical datasheets, please contact us via email or call our 24/7 service centre.
All displayed components and spares are in our inventories, including parts for Mechanics, Pneumatic and Oleodynamics. Your orders will be ready to ship within 24/48 hours and delivered all over EU with DHL Express.
€

13,50 per piece, VAT excluded